If you're searching for top-notch dent repair services, look no further than FastLane Car Care. Our skilled professionals are dedicated to restoring your vehicle to its former glory, ensuring it looks as good as new. Don't let those unsightly dents diminish the appeal of your car; we're here to help. At FastLane Car Care, we specialize in dent repair near me, offering convenient solutions for minor dents that will leave your vehicle looking flawless. Here's all you need to know about dent repair and why choosing us is your best decision.
What Is Dent Repair?
Dent repair is a specialized service that removes dents and dings from your vehicle's body. Whether your car has suffered a minor collision, a shopping cart mishap, or hail damage, our experts can fix it. These minor dents can be an eyesore and affect your car's resale value. FastLane Car Care's dent repair services can help you regain the pristine appearance of your vehicle.
Why Choose FastLane Car Care for Dent Repair?
FastLane Car Care is your go-to destination for dent repair near me. Here are some compelling reasons to choose us:
  

Expertise:

Our technicians have years of experience and training in 

dent repairs

, ensuring your vehicle is in capable hands.

  

State-of-the-Art Tools:

We use the latest equipment to provide precise and efficient dent repair services.

  

Convenience:

We offer quick and convenient 

dent repair services

 that will make your car look great in no time.

  

Affordability:

FastLane Car Care offers competitive pricing without compromising on the quality of our services.

  

Customer Satisfaction:

We are committed to ensuring your complete satisfaction and stand by our work.
The Dent Repair Process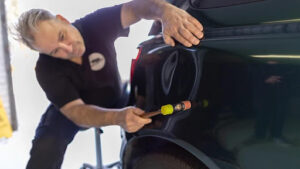 At FastLane Car Care, we follow a systematic approach to dent repair:
  

Assessment:

Our experts inspect the extent of the damage to your vehicle.

  

Paintless Dent Repair (PDR):

For minor dents, we use cost-effective PDR techniques that preserve your car's original paint.

  

Precision Work:

Our skilled technicians meticulously work on each dent to restore your car's flawless appearance.

  

Quality Check:

We thoroughly check to ensure the repair meets our high standards.

  

Final Touches:

Your car is cleaned, polished, and ready for you to drive with pride.
Dent Repair Near Me
If you're searching for "dent repair near me," FastLane Car Care is your local expert. Our convenient location and commitment to quality make us the top choice for dent repairs. Visit our Minor Dents page for more information.
Dent Repairs Tailored to Your Needs
We understand that every dent is unique, and our skilled technicians provide tailored solutions for each case. No matter how challenging the dent repair, we're up for the job.
Our Proven Track Record
FastLane Car Care has a long history of successful dent repairs, earning us a reputation for excellence in the industry. Our dedication to customer satisfaction and quality work sets us apart.
Conclusion
FastLane Car Care is your trusted partner for dent repair. Our expertise, advanced techniques, and commitment to customer satisfaction make us the ideal choice for fixing those minor dents that mark your car's appearance. Don't let patterns affect your vehicle's aesthetics or value; contact us today for top-notch dent repair services.
By choosing FastLane Car Care for dent repairs, you're making a wise investment in the longevity and beauty of your vehicle. Say goodbye to those pesky dents and hello to a flawless, pristine car. Visit our Minor Dents page to learn more about our dent repair services.